Main Menu
API Visitors
Today
Yesterday
This Week
Last Week
This Month
Last Month
All days
216
324
1173
772374
8268
14090
861306
---
We Have 1 guests online
Your IP: 54.235.4.196
Today: Apr 24, 2019
The Advocacy and Policy Institute (API)
The Advocacy and Policy Institute (API) is a Cambodian non-profit and non-governmental organization which has a mission to serve the long-term democratic and social development needs of Cambodia through the provision of services in the areas of advocacy and policy development. 
API honored by CARE Partnership Award 2018
Prof. Dr. Winfried Polte, President of CARE Deutschland-Luxemburg, and Mr. Ashok Sridharan, Mayor of the City of Bonn, Germany, presented the "CARE Partnership Award 2018" to the Advocacy and Policy Institute (API) on 27 November 2018 in the Old City Hall of Bonn.
On behalf of API, its Board of Directors and staff, target groups and beneficiaries in Cambodia who API has worked with in their attempts to overcome poverty and claim their rights, API's Director Socheat Lam received the Award in the official ceremony. API is proud of being one of the outstanding partners of CARE, and of our partnership in the Implementation of the Social Accountability Framework project in 2016 to 2018. This project on enhancing democracy and improving local public services has been very successful under the leadership of CARE International in Cambodia. In the course of this project implementation we have seen encouraging dialogue between citizens and local government officials about the quality of government services, despite the shrinking space for civil society.
API is proud to have received this Award from CARE Deutschland. API and CARE share a common vision. Also API puts women and youth at the centre of our work, because we know that we cannot overcome poverty until women and youth have equal rights and opportunities. API's vision is for a Cambodia that through poverty reduction and the protection of human rights, creates a national culture of harmony with sustainable democratic, political, and economic stability. Our mission is to serve the long term democratic and social development needs of its people through the empowerment of people to interact with their government and to protect their rights and provide for their needs. 
This Award is a special encouragement and motivation to all of us at API to work even harder to end poverty and protect human rights. The CARE Partnership Award will be used to support our mission; in particular API's next five years goal in fulfilling the rights of Cambodian citizens and enhancing their voices in order to achieve sustainable development in Cambodia; and to maintain our role as one of the leading Cambodian capacity building organisations in the areas of advocacy, policy influencing, citizen engagement and good governance.
CARE PARTNERSHIP AWARD
We, as a CARE partner, are very proud to announce that API receive the biennially awarded CARE -"Partnership Award" for our outstanding contributions to overcoming hardship, poverty and discrimination in 2018.
API is very pleased about this acknowledgment and look forward to today's award ceremony in Cologne, Germany.
Click hear to go to CARE Germany's website
Change the Game Academy Programme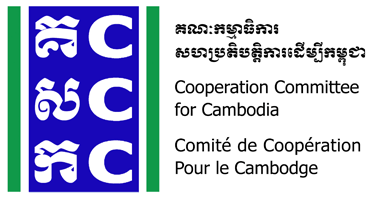 New Partnership
Between Advocacy and Policy Institute (API) and Cooperation Committee for Cambodia
and
Change the Game Academy programme of Wilde Ganzen Foundation, Netherlands
API is pleased to announce our new partnership with CCC and
Change the Game Academy programme of Wilde Ganzen Foundation, Netherlands
API and CCC have been selected and trained as National Partners of the Change the Game Academy in Cambodia, to build capacity of local partners and member organizations in Local Fundraising and Mobilising Support.
In September 2018, Wilde Ganzen in cooperation with MDF and Smile Foundation (National Partner of the CtGA in India) provided a training of trainers (ToT) of two weeks on Local Fundraising and Mobilising Support, in Sri Lanka. API and CCC will contextualize the trainings to the situation of in Cambodia, include local examples and the laws and regulations of Cambodia. Moreover, the training materials for the trainees will be translated in Khmer.
In 2019, API and CCC will provide comprehensive training and coaching programs on "Local Fundraising" and "Mobilizing Support" for partners of Wilde Ganzen, API and member organisations of CCC nationwide.
These partnership trainings will contribute to addressing challenges that many CBOs and NGOs in the Global South, not only in Cambodia, are facing: They largely depend on foreign funding only. ODA however has significantly decreased in recent years. The problem of inadequate funding/resources is felt most by smaller, local and province-based NGOs and CBOs. They generally have limited capacity in identifying and securing available funding, cannot easily keep track of the changing donor landscape, often have limited English-language communication skills, and are not proficient in developing viable concept notes/funding proposals.
API and CCC are confident that our 12 national trainers of Local Fundraising and Mobilising Support will play a crucial role in empowering the leaders and staff of NGOs and Community Based Organisations in Cambodia, so that the communities are able to diversify their resources, sources of income with government, individual and private sector donors and contributors, and can influence policies with government and private sector stakeholders domestically, at local, district and national levels.  All this, in order to improve the lives of people in their communities. 
Successfully Implemented the Social Accountability Framework
Successfully implemented the Social Accountability Project to improve primary education, health and commune administration in Kampot province by demand side CSO, 2016-2018; and handed over to government and communities to ensure long term sustainability.
Community Accountability Facilitators, Local government, Health Centers, School, NSDD strongly have confirmed their strong commitments to sustain the ISAF project activities with their own fund in next year planning and budget @ ISAF Project Closing Workshop, Kampot, 3 August, 2018, funded by EU through CARE Cambodia.
Our sincere thanks to EU, CARE, all community volunteers, local authorities, education and health departments, partners (YCC, OREDA, CADDP, CWDCC, PVT) for all great supports and wonderful works to serve best interests of communities and people.